Logistics outsourcing has become very popular among businesses that are looking to streamline their operations, reduce costs and enhance efficiency.

In this blog, we will explore the top 5 benefits of logistics outsourcing. From saving cost and scalability to improved focus on core competencies, these advantages highlight why businesses are turning to outsourcing partners for their logistics needs.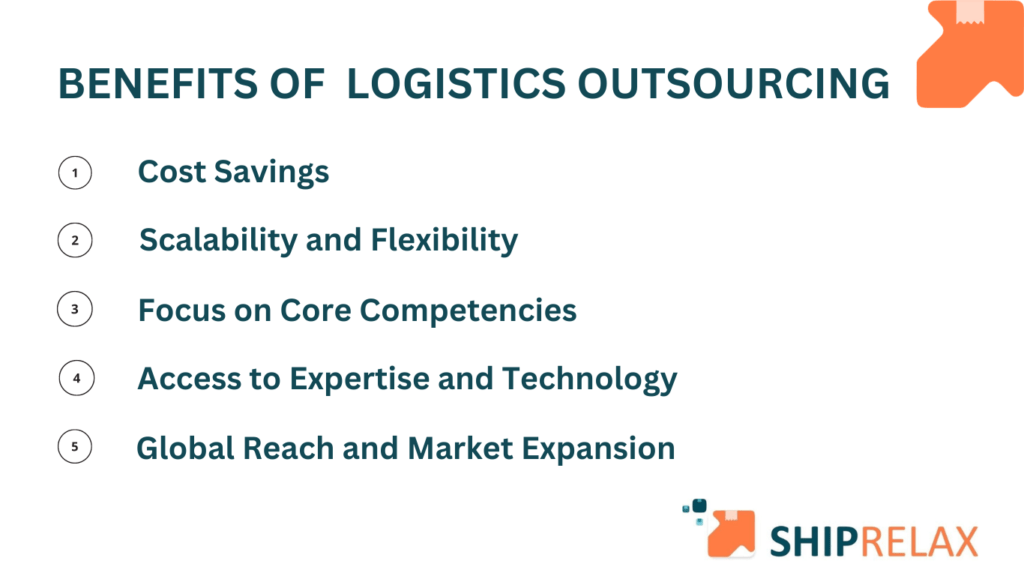 Cost Savings:

One of the most important benefits of logistics outsourcing is cost savings. By outsourcing with a third-party logistics(3PL) provider, businesses can leverage their expertise in the field, infrastructure, and economies of scale which in turn results in reduced overall operational costs. 3PL providers have well-established networks, allowing for efficient transportation, warehousing, and distribution, all of which contribute to cost savings through optimized logistics processes.

Scalability and Flexibility:

Outsourcing logistics provides businesses with scalability and flexibility. As businesses grow or experience fluctuations in demand, 3PL providers will be able to quickly adapt to the changing requirements. They have all the resources, technology, and expertise to scale operations as per the requirement, which ensures smooth logistics operations during market shifts or peak seasons. This scalability helps businesses in eliminating the need for additional workforce or infrastructure during temporary or unpredictable times of increased demand.

Focus on Core Competencies:

By outsourcing logistics, businesses will be able to redirect their focus and resources to core competencies. Logistics management requires expertise in the field and resources which can be a very tedious task for businesses to build in-house. By trusting the logistics operations to the experts, businesses can invest and focus on strategic initiatives, product development, marketing, and customer service, ultimately improving overall business performance.

Access to Expertise and Technology:

Partnering with a logistics provider allows businesses to access industry expertise and advanced technologies. 3PL providers possess extensive knowledge of best practices in logistics, regulatory compliance, and market trends. They always stay up to date with the latest advancements in technologies such as warehouse management systems (WMS), transportation management systems, and real-time tracking capabilities. Leveraging these technologies enhances visibility, efficiency, and accuracy in logistics operations.

Global Reach and Market Expansion:

For businesses looking to expand into new markets or operate in the global market, partnering with the logistics provider offers a significant advantage. 3PL providers already have established networks, knowledge of international regulations, and experience in navigating all the complexities that arise in cross-border logistics. They can efficiently handle custom compliances, international shipping, and distribution, enabling businesses to reach new markets, reduce the time to reach the market, and effectively compete on a global scale.
Logistics outsourcing offers numerous benefits that contribute to streamlined operations, cost savings, and improved customer satisfaction. From cost reductions and scalability to enhanced market expansion, the advantages of outsourcing logistics are clear.

By partnering with a trusted 3PL provider, businesses can leverage their expertise, advanced technology, and industry insights to drive efficiency, mitigate risks, and gain a competitive advantage in today's dynamic business landscape. Embrace the power of outsourcing logistics and unlock the potential for growth and success in your supply chain operations.
By partnering with ShipRelax, businesses can leverage our expertise, advanced technology, and industry knowledge to streamline operations, reduce costs, and enhance customer satisfaction.
Trust ShipRelax as your logistics partner to achieve long-term success for your business's supply chain operations.